Tuesday 8/20/2019
CrossFit Raw Steel – Workout Of The Day
Weightlifting
6 sets of 2 Snatch complex (13 min. clock)

– Pausing snatch pull + full snatch

*Snatch pull with :03 pause above knee

*Reset, and full snatch–try to make the movement exactly the same.
-(KEEP KNEES BACK, and TOES ON THE GROUND–DON'T ROLL BACK on snatch pull
Snatch (2-2-2-2-2-2)
Metcon
-Scale MU with 3x false grip ring rows–false grip is a must

-Scale L-sits with Tuck holds on parellettes
Metcon (AMRAP – Rounds and Reps)
12 Minute AMRAP

-3 Ring Muscle-ups

-6 Power Snatch (115/85)

-20 sec. Parellette L-sit (scale with Tuck hold)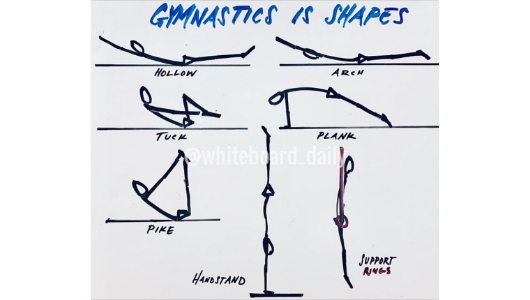 Gymanstics shapes are universal–practice them and use them!